Father Nathan Homily |
December 12, 2021
Gaudete Sunday – Third Sunday in Advent

"I am baptizing you with water,
but one mightier than I is coming.
I am not worthy to loosen the thongs of his sandals.
He will baptize you with the Holy Spirit and fire…"
Today's Readings
Cry out with joy and gladness: for among you is the great and Holy One of Israel.
Join our Parish Family
Register in the parish, so that it's easy to become a confirmation sponsor or Godparent.
Want to Lend a Helping Hand?
Find volunteer opportunities and share your talents.
Need a Helping Hand?
We are here to help.  Request home visits, send a prayer request.  For urgent needs call 954.943.3684
You can make a one-time donation or set up recurring gifts.
Past Messages from Father Nathan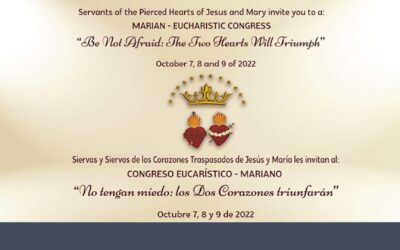 International Eucharistic Congress 2022 – Miami! Servants of the Pierced Hearts of Jesus and Mary invite you to our IV International Eucharistic – Marian Congress Oct 7-9, 2022.
read more