St. Gabriel
Catholic Church
Welcomes You!
"Welcome one another as Christ has welcomed you, for the glory of God." Romans 15:7
Young or young at heart.  Full-time parishioner or a Seasonal resident.
Florida born or from far, far away…
You are Welcomed + You are Appreciated + You are Important
Welcome to the St. Gabriel Family.
Join our Parish Family
Register in the parish, so that it's easy to become a confirmation sponsor or Godparent. 
Want to Lend a Helping Hand?
Find volunteer opportunities and share your talents.
Need a Helping Hand?
We are here to help.  Request home visits, send a prayer request.  For urgent needs call 954.943.3684
Online Giving – Coming Soon.
You'll be able to make a one-time donation or set up recurring gifts.
St .Gabriel Welcomes Father Nathan
Watch a Brief Message From Father Nathan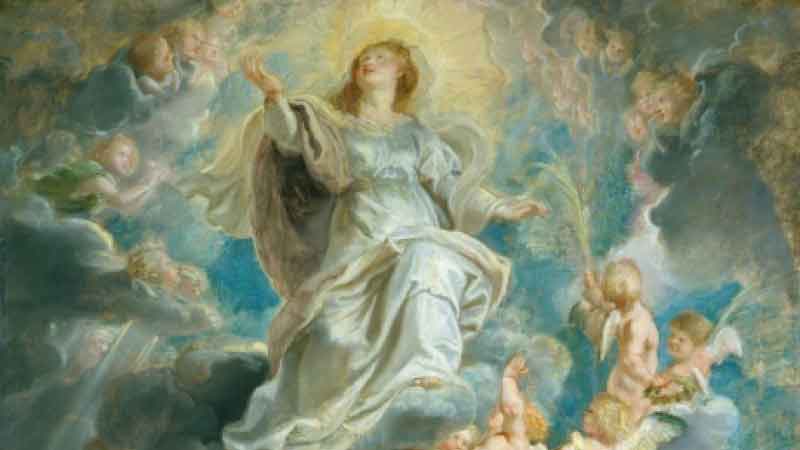 Solemnity of the Assumption of the Blessed Virgin Mary
Thursday August 15, 2019
Thursday, August 15, 2019 is the Feast of the Assumption of our Blessed Lady into heaven.  It is a holy day of obligation. 
Mass will be on Wednesday 4:00 pm. & Thursday 8:00 & 10:00 a.m.
Weekend Masses:  Saturday Vigil Mass 4:00 PM
Sunday Mass 8:00, 9:30, 11:00 AM 
Weekday Masses:  8:00 AM Monday through Saturday
Rosary: Daily following the 8:00 AM Mass
Adoration of the Blessed Sacrament:  Wednesday  8:00 to 10:00 AM
Confessions:  Saturday 3:00 – 3:30 in Church or by appointment call 954.943.3684
Sick Calls:  Please call the office 954.943.3684
Office Hours: Mon. – Fri.  9:00 AM to 4:00 PM
Office Phone: 954-943-3684       
St. Gabriel Catholic Church Pompano Beach has plenty of parking!

There is a large parking lot behind the church with over 375 spaces.  So you'll never have to worry about parking.

For your convenience, there are side entrances on either side of the church close to the rear parking lot.
St .Gabriel Welcomes Father Nathan
Pastor:  Fr. Sahayanathan Nathan
In June we said goodbye to Father Liam Quinn, who decided to retire and focus more effort on his missionary outreach in Dominican Republic.
And we welcomed our new Pastor Father Sahayanathan Nathan to our parish.  Father Nathan comes to us from St Agatha's in Miami.  Father Nathan sent us a beautiful letter when he received the news of his new assignment.  Read it here.
St Gabriel Catholic Church
A Vibrant Faith Community in Christ
Parish History
---
Established in 1967, Saint Gabriel serves the faith and spiritual needs of the Catholic community in Pompano Beach and Hillsboro Beach. Through hard work, sacrifice, and dedication, parishioners constructed a rectory and a church with an elegant blue tile roof and ceramic doors made by two California aunts of Father Thomas Groggin, the first pastor. Parishioners also established a religious education program.
The parish may be South Florida's first to initiate a Parish Nurse/Health program in conjunction with Holy Cross Hospital, to serve the frail elderly.
Situated in the heart of Pompano Beach on A1A, just across the street from the beach, St Gabriel's community is a blend of cultures, ages, and ethnicities.
St Gabriel is blessed to serve as a vibrant year-round parish for about a 1,000 families, which swells during "season" when we welcome our seasonal parishioners home.
Saint Gabriel's spiritual life is embodied in prayer and our community outreach. St Gabriel offers parishioners many opportunities to participate in parish life – Bible study, prayer groups, Saint Vincent de Paul Society, Respect Life, the frail elderly, and many others.
From the Desk of Father Nathan
Father Nathan's Inspiration for Our Week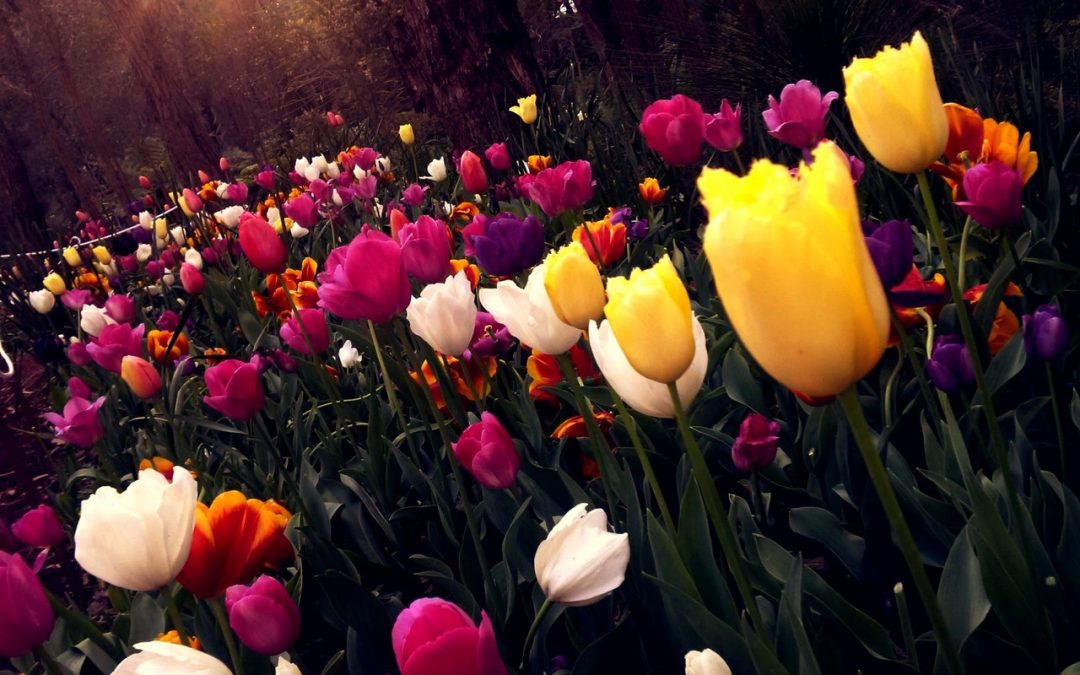 Father Nathan St Gabriel | August 18, 2019A Message from Father Nathan "My dearest people who are all closer to my heart" Prayerful greeting to you!  I thank you for all your love, concern and understanding and for your support for me and the parish.  May God...
read more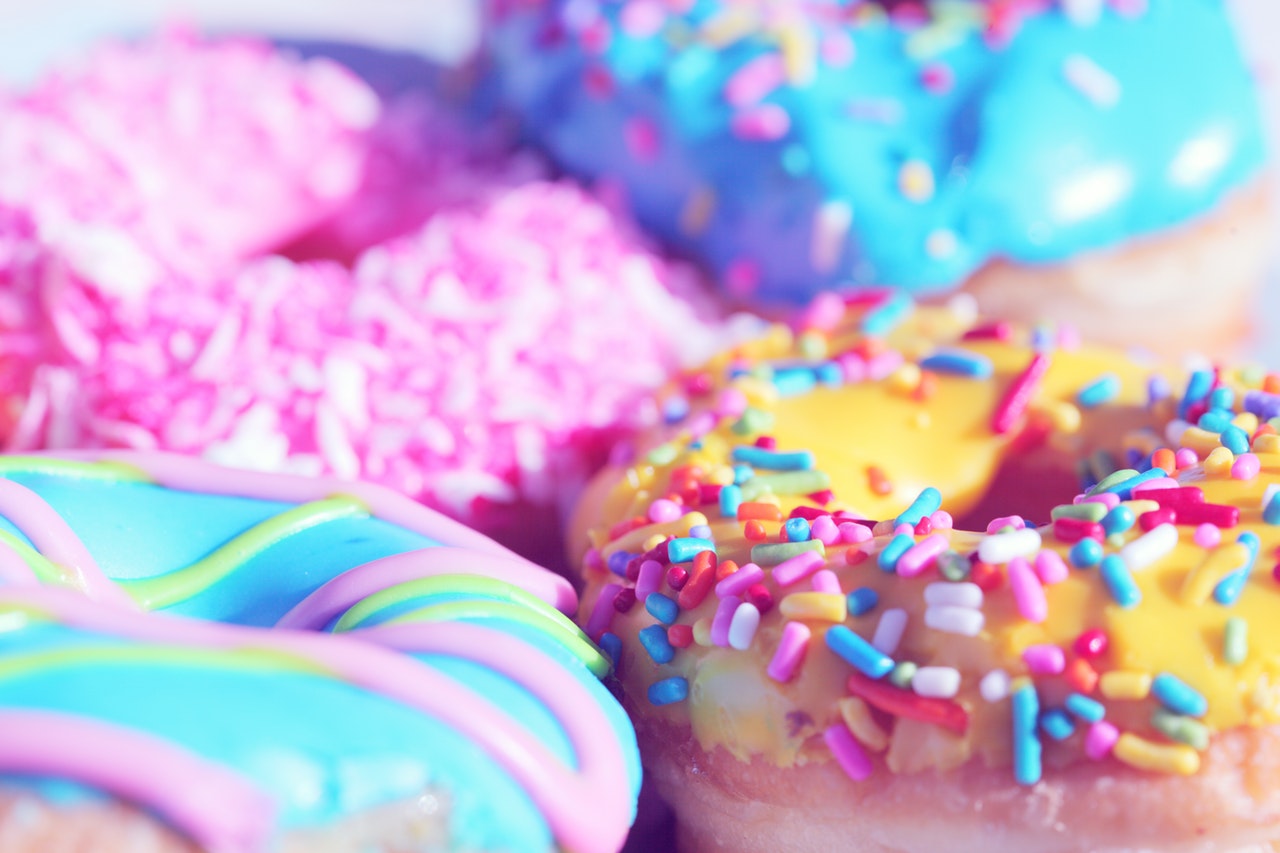 COFFEE AND DONUTS
We will have coffee and donuts after the 9:30 Mass every Sunday in the parish hall.  Please join us and meet your fellow parishioners.
Latest Happenings At St. Gab's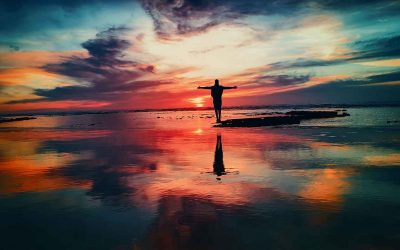 Father Nathan Homily | August 11, 2019Father Nathan | Homily 19th Sunday Ordinary Time (August 11, 2019) Your Kingdom Come!!! Fr. Nathan Introduction: "Behold, I stand at the door and knock. If anyone hears my voice and opens the door, I will enter his house...
St. Gabriel | Needs & News
Needs
---
SEMINARY BURSE FUND COLLECTION
We ask you for your financial support of the Seminary Burse Fund of the Archdiocese of Miami, which directly provides for the information of those whom God is calling to the priesthood.  This collection will be taken TODAY Sunday, August 11th at all the Masses.
Your contribution to the annual Seminary Burse Fund collection helps to ensure that the seminarians of today receive the best formation possible.  As you know, the priest is essential for the celebration of the Eucharist for only he can make the Lord present on our altars.  The priest is also essential in absolving our sins in the sacrament of reconciliation.  The priest represents Christ to us in so many important occasions – baptism, confirmation, weddings and funerals.  This makes your support to the education and formation of future priests so very important.  Your generosity is greatly appreciated.
SCHOOL SUPPLY COLLECTION | August 3rd – August 17th
It is that time of the year again, when many children are getting ready to return to school.  For the past several years, the Society of St. Vincent dePaul of St. Gabriel's parish has been instrumental in helping to get kids ready of the upcoming school year.
We are accepting donations of crayons, pencils, pens, erasers, rulers, folders, glue sticks,calculators, USB drives, chart paper, markers  all sizes of notebooks and of course backpacks are a necessity and are very important.  Please help us to give back to our community by helping those in need.
The bins will be located at the 4 church entrances and will be there for the weeks of August 3rd – August 17th Any questions call Michele at 954-781-0400
Thanks in advance for your support
MENS USED JEANS –
We are in desperate need of sizes 32-34-36 men's used jeans. 
You have helped the needy with used sneakers, bikes and now we are back asking again. Each week we serve approximately 850 meals. That's 850 faces that look to your acts of kindness. Our Clothing Mission provides, tshirts, jeans, used sneakers, work boots to those down on their luck. A blue bin marked jeans is inthe back of the church. Thank You!
GIFT SHOP – Volunteers needed
We are in need of a few volunteers to help run the gift shop on the weekend Masses.  If interested please call Pam – 954-990-3451
ATTENTION NEW CHOIR MEMBERS NEEDED
The rehearsal will be every Tuesday 7:00 p.m. –  8:30 p.m. In the church.  Anyone interested please be at the rehearsal on Tuesday. Andrew Reid- 754-264-9091
USED SNEAKERS
Of the approximate 200 guests that come calling at "Our Father's House Family Services each day most are in need of sneakers. Please look in your closet, for those sneakers you have not worn for a longtime.  In the rear of the church is a basket that says "Sneakers". Thank You
BIKE ACADEMY
Our Father's Soup Kitchen has started a new ministry called Bike Academy.  All bike sale money goes into an escrow account for the veterans and less fortunate. When they earn enough for deposit, we have arranged to have them placed inpermanent housing. They are in desperate need of used bicyles in any condtion. We come to yousame day pick up service. Contact Jim Crissy – 954-610-5341
News
---
AD LIMINIA PILGRIMAGE TO ROME
Archbishop Thomas G. Wenski will be traveling to Rome in February 2020 for an Ad Limina pilgrimage. It will be a small group which is open to everyone  in the Archdiocese of Miami.   The website with the information for the pilgrimage is http://www.adomdevelopment.org/italy2020.
MILITARY HONOR ROLL
The Men's Club is now accepting Nominations for inclusion in the new Military Honor Roll for Registered Parishioners on behalf of a Spouse, Parent or Chlild of a person who served or is serving the US Military.  Nomination Forms are available in the parish office. For more information, call Andy Buglione – 954-593-5831 or Joe Barcheski – 954-803-9363  Learn More.
THE FRIENDLY VISITOR PROGRAM.
St. Vincent dePaul Society encourages any parishioner or friend of a parishioner to call 954-621-6027. If you would like friendly social visits, prayers or emotional support on an ongoing basis, this is the program for you.
BEREAVEMENT GROUP
Attention. Bereavement Group will be meeting on Tuesday, July 23rd at 7:00 p.m. New members always welcome to come. If further details are needed please call Deacon Bill at 978-257-3893
KNITTING NELLIES
The Knitting Nellies will resume September 19th the hours have been changed to 5:00 p.m – 7:00 p.m.  If you have questions contact Margaret – 954-532-2018 .
CENTERING PRAYER GROUP
Statement of Purpose:  We come together to experience the transformation power of God as we practice Center Prayer in a supportive and spiritual community committed to encourage each other in our journey. We meet each Thursday in the parish rectory 7:00 – 8:00 p.m. For info call Barbara Reitberg – 305-298-3818.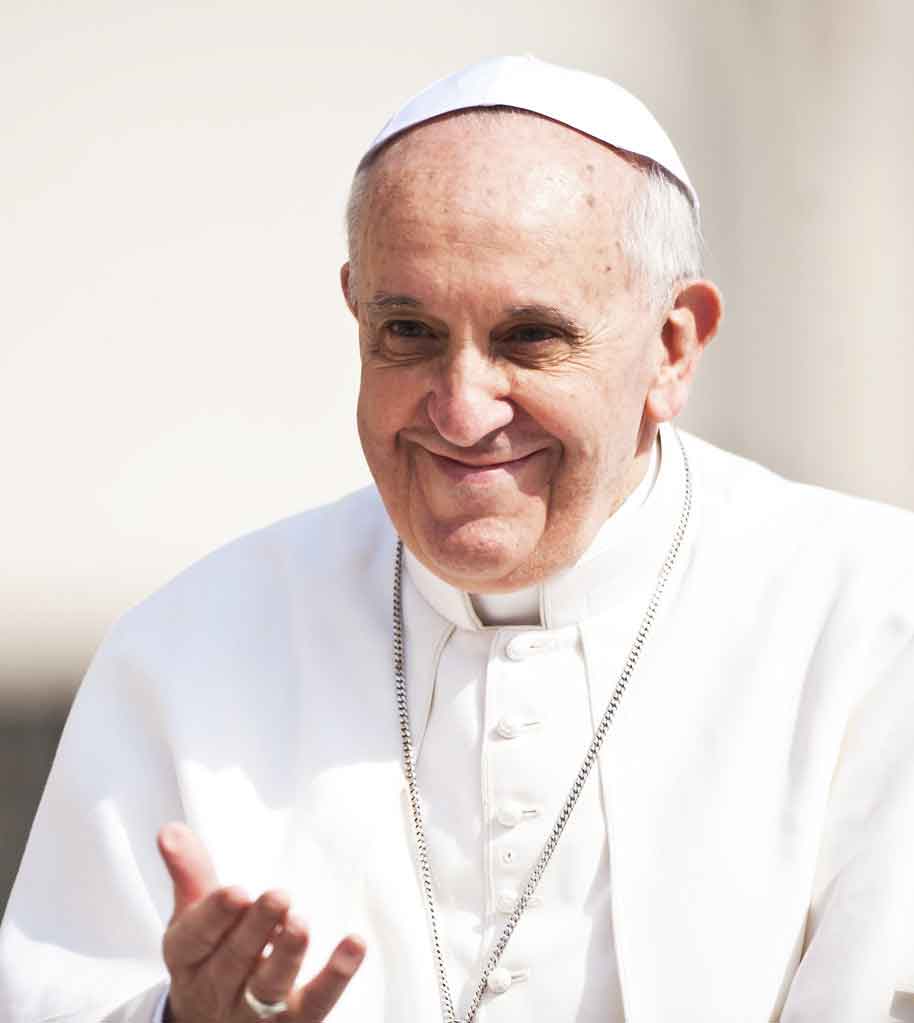 Pope Francis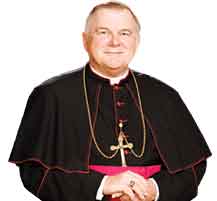 Archbishop Thomas Wenski
Archdiocese of Miami
"Let the peace of Christ rule in your hearts, since as members of one body you were called to peace. And be thankful." 
Ministries
Where are you called to serve?  Here are a few featured ministries here at St Gabriel.  Explore these opportunities or check out a full listing of ministries.
St. Vincent de Paul
Get involved.  St. Vincent de Paul connects one-on-one with individuals in need.
Extraordinary Minister of Holy Communion
Training and certification are held periodically throughout the Diocese.  
Council of Catholic Women
Women's service, prayer, and social group. 
Won't you join us?
Knights of Columbus
Men's Catholic service and social group.
We'd love to meet you.
Respect Life
"Every Life: Cherished, Chosen, Sent"!
Every life is important to our faith community.  Get involved.
"So now faith, hope, and love abide, these three; but the greatest of these is love." 
---
EVENTS & EVENT PLANNING
REBOOT! LIVE! by Real Life Catholic
---
RETAIL
Reflection's Hallmark
---
Restaurant
Jukebox Diner
954.960.5882
2771 E. Atlantic Blvd.
---
Real Estate
Jan Park
Pompano Beach, Florida
954.781.1818 | Email
Camille Hall
Pompano Beach, FL
954.254.2085 | Email
---
Property Management
Mark Park | Method Management
Pompano Beach, FL
954.695.8818
FUNERAL HOMES & PLANNING
Catholic Cemeteries/Catholic Health Service
Kraeer Funeral Homes
---
---
Vacation Rentals
Beach Vacation Rentals
Pompano Beach, FL
954.283.1111 | Website
---
Travel
Beverly Moscillo, ECC
Lighthouse Point, FL
603.490.6875
|
Email
---
Charitable Giving
Tony Albergo, American Cancer Society
Cash for Cars, Trucks & Boats
Proceeds to American Cancer Society
954.305.4688
Donald A Wich, Jr – Attorney
Lighthouse Point, FL
954-785-3181
James J. Wich, Jr
Lighthouse Point, FL
954-782-1800
---
MEDIA
The Grace of Yes by Lisa Hendey
Notre Dame, IN
800-282-1865
|
Website
---
---
Plumbing
Dascor Plumbing 
State Lic. No. CFC 057669
Pompano Beach, Fl 
954.941.7405 | Email
We are always just an email or phone call away. For Emergencies Call 954.943.3684.