Father Nathan Homily | September 13, 2020
"Lord, if my brother sins against me,
how often must I forgive?
As many as seven times?" 
Jesus answered, "I say to you, not seven times but seventy-seven times. 

— Matthew 18:22
Twenty-fouth Sunday in Ordinary Time
Forgiveness
This Sunday is about forgiveness. It is a MOST DIFFICULT WORD to hear and to act upon, just because we find forgiveness difficult—both to receive and to give.
The message of Matthew 18:21-35
A captive was once brought before King James II of England. The King chided the prisoner: "You know that it is in my power to pardon you?" The scared, shaking prisoner replied, "Yes, I know it is in your power to pardon me, but it is not in your nature." The prisoner had the keen insight to know that unless we have had a spiritual rebirth we have no nature to forgive. The good news of the Gospel of Jesus Christ is that it is both in the power and the nature of Jesus to forgive and to pardon.
Forgiveness is costly and it is extreme grace.
That was the reason he proved it on the cross by doing it, Luke 23:34
"Father, forgive them, for they do not know what they are doing"
This is not cheap grace.
Jesus proposes something quite different. "Seventy times seven" is four hundred and ninety: We can 'do it in our heads.' But (what Jesus proposes) is celestial arithmetic: We must 'do it in our hearts'" as he was hanging between the world and to heaven. "Father, forgive them, for they do not know what they are doing" it's the grace that connects humans to the divine. As he exactly did it on the cross. The Cross is the symbol that connected the world to God and that baptized world to God.
The numbers seven and seventy-seven may have their roots in Genesis 4. There God pronounces sevenfold vengeance on anyone who kills Cain, and Lamech expands it to seventy-seven-fold for anyone who might kill Lamech. If the numbers seven and seventy-seven in Matthew 18 are derived from Genesis 4, they provide an ironic twist. In Genesis, the numbers refer to vengeance. In Matthew, they refer to forgiveness.
Forgiveness creates space for a new life.
Forgiveness is an act of hopefulness and resurrection for the one who forgives. It is the healing of our soul and life. Forgiveness takes us out of darkness into light, from death to life. It disentangles us from the evil of another. It is the refusal to let our future be determined by the past. It is letting go of the thoughts, the hatred, and the fear that fill us so that we might live and love again.
So how do we begin to forgive?
There is no easy road to forgiveness. Don't let anyone tell you, "Just give it up to God. Forgive and forget." Simplistic trite answers only demean those who suffer and pick at the wound. Forgiving another takes time and work. It is something we must practice every day. It begins with recognition and thanksgiving that we have been forgiven. We are the beneficiaries of the crucified one. Hanging between two thieves he prayed, "Father, forgive them" (Lk. 23:34). That is the cry of infinite forgiveness, a cry we are to echo in our own lives, in our families, our workplaces, our parishes, our day to day life.
Forgiveness does not originate in us. It begins with God.
That's what the slave who refused to forgive didn't understand. It was not about him. It's about God. We do not choose to forgive. We only choose to share the forgiveness we have already received.
Catechism on forgiveness:
The gates of forgiveness are always open to anyone who turns away from sin (CCC #982). Everyone must be tireless in forgiving each other both the petty and the serious; the charity of Christ demands it (CCC #2227). It is our own heart that binds us to heaven or hell, just as the "merciless servant" discovers in today's Gospel (CCC #2843).
The more we forgive people, like Christ forgave his own enemies who brutally killed him on the cross, we will also hear the same words from the very mouth of Christ
"Today you will be with me in paradise"
Amen.
Have a Blessed Week,
Fr. Nathan
Join our Parish Family
Register in the parish, so that it's easy to become a confirmation sponsor or Godparent.
Want to Lend a Helping Hand?
Find volunteer opportunities and share your talents.
Need a Helping Hand?
We are here to help.  Request home visits, send a prayer request.  For urgent needs call 954.943.3684
You can make a one-time donation or set up recurring gifts.
Past Messages from Father Nathan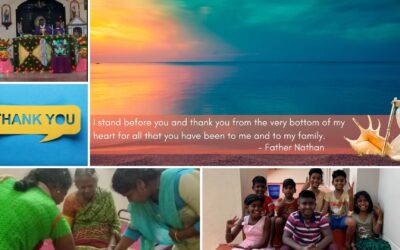 Thank you for your kindness, love, support and above all your valuable prayers. To me, as like all of you, family means a lot to me. We are united ONLY WITH LOVE. I always feel the LOVE VIBRATION in my family. I feel so BLESSED about my family as I feel with you all.
read more