Father Nathan Homily |
Seventh Sunday of Easter – Ascension 
May 16, 2021
Seventh Sunday of Easter – Ascension

So then the Lord Jesus, after he spoke to them, was taken up into heaven and took his seat at the right hand of God.

Mk- 16:19
The Lord has set his throne in heaven.
Today's Readings Solemnity of the Ascension of the Lord:
God mounts his throne to shouts of joy: a blare of trumpets for the Lord.
Join our Parish Family
Register in the parish, so that it's easy to become a confirmation sponsor or Godparent.
Want to Lend a Helping Hand?
Find volunteer opportunities and share your talents.
Need a Helping Hand?
We are here to help.  Request home visits, send a prayer request.  For urgent needs call 954.943.3684
You can make a one-time donation or set up recurring gifts.
Past Messages from Father Nathan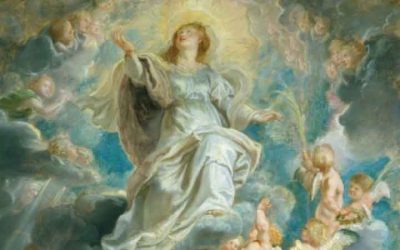 August 15th is an important and memorable day for all Catholics. It is the Feast celebrating the Assumption of our Blessed Mother. Learn More about the the theology and the catechism of the Assumption of our Blessed Mother
read more