From the Desk of Father Nathan | December 20, 2020
A Message from Father Nathan
My dearest people who are all close to my heart!
Lots of love, blessings, and prayers to you all.
Merry Christmas to You!
"JOY TO THE WORLD"
In this season…when the people were all tired, worried, concerned, and waiting with lots of perplexities, the Lord incarnated Himself and opened up a new world of love to His people.
The world longed for Him and hence, He incarnated Himself in this world He did it, no doubt out of love. When there is love and a love that would take any amount of risk and pain for their loved ones, then there is peace.
Jesus so loved the world that He was ready to throw away all the hurdles and hardships in order to show His love to His people.
He sacrificed his self, His own greatness, and His own Godliness. He did everything then in order to show and share His LOVE now.
God is With Us
As we are celebrating this Christmas, remember it's a reminder that God is with us. His love never changes. His love is unconditional love. The world in which we live has little to offer to others other than unconditional love.
Let Us Be Joy
Hence let us be the light, let us be the joy, and let us be the love that Christ offers to the world. May the world, our community, and our neighbors witness the love of Christ the Child through us.
May the love of Christ emanate to the world through us. May the light of Christ dispel the darkness of the world through us and finally, may the joy of Christ be shared to the world through us and with us.
Joy to The World
Joy to the World May God bless you all and your extended family.
My humble and sincere prayers Merry Christmas to you and to all yours.
God bless you all.
With love and blessings,
Ever at your service.
—Fr. Sahayanathan Nathan
You can make a one-time donation or set up recurring gifts.
Join our Parish Family
Register in the parish, so that it's easy to become a confirmation sponsor or Godparent. 
Want to Lend a Helping Hand?
Find volunteer opportunities and share your talents.
Need a Helping Hand?
We are here to help.  Request home visits, send a prayer request.  For urgent needs call 954.943.3684
Past Messages from Father Nathan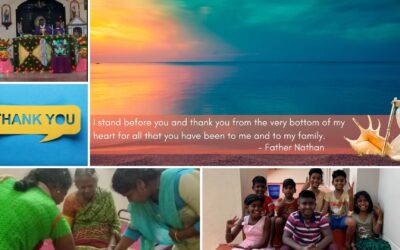 Thank you for your kindness, love, support and above all your valuable prayers. To me, as like all of you, family means a lot to me. We are united ONLY WITH LOVE. I always feel the LOVE VIBRATION in my family. I feel so BLESSED about my family as I feel with you all.
read more