Prayer for the Indwelling of the Spirit
Holy Spirit, powerful Consoler, sacred Bond of the Father and the Son. 
Hope of the afflicted, descend into my heart and establish in it Your dominion. 
Enkindle in my tepid soul the fire of Your love so that I may be wholly subject to You. 
We believe that when you dwell in us.  You also prepare a  dwelling for the Father and the Son. 
Deign, therefore, come to me, Consoler of abandoned souls, and Protector of the needy. 
Help the afflicted, strengthen the weak, and support the wavering.
Come and purify me, let no evil desire take possession of me. 
You love the humble and resist the proud. 
Come to me, Glory of the living, and Hope of the dying. 
Lead me by Your grace that I may always be pleasing to you. 
Amen.
Join our Parish Family
Register in the parish, so that it's easy to become a confirmation sponsor or Godparent. 
Want to Lend a Helping Hand?
Find volunteer opportunities and share your talents.
Need a Helping Hand?
We are here to help.  Request home visits, send a prayer request.  For urgent needs call 954.943.3684
Coming Soon
Set up Online Giving.
You can make a one-time donation or set up recurring gifts.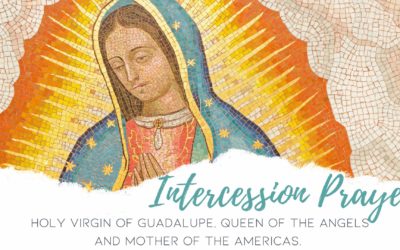 Prayer for intercession to our Blessed Mother During CoronavirusHoly Virgin of Guadalupe, Queen of the Angels and Mother of the Americas. We fly to you today as your beloved children. We ask you to intercede for us with your Son, as you did at the wedding in Cana....
read more